Year
1982

Director
Ted Kotcheff

Writing Credits

Michael Kozoll, William Sackheim and Sylvester Stal-
lone

Produced by

Buzz Feitshans, Mario Kassar and Andrew Vaijna

Original Music by
Jerry Goldsmith

Cinematography by
Andrew Laszlo

Film Editing by
Joan E. Chapman

Casting by
Toni Howard, Lynn Stalmaster


Production Design by
Wolf Kroeger

Cast
(in credits order)

Sylvester Stallone
John Rambo

Richard Crenna
Col. Sam Trautman
Brian Dennehy
Sheriff Will Teasle

Bill McKinney
Capt. Dave Kern

Jack Starrett
Sgt. Arthur Galt

Michael Talbott
Deputy Balford

Chris Mulkey
Deputy Ward

John McLiam
Orval the Dog Man

Alf Humphreys
Deputy Lester

David Caruso
Deputy Mitch

David L. Crowley
Deputy Shingleton

Don MacKay
Preston

Charles A. Tamburro
Pilot

David Petersen
Trooper

Craig Huston
Radio operator

Patrick Stack
Lt. Clinton Morgan

In lower Washington State in December 1981, John J. Rambo, a Medal of Honor-winning former Green Beret, finds that he is the last surviving member of his unit. Disconsolate after finding out that his last remaining comrade from the Vietnam war has died from agent orange induced cancer, he wanders into the nearby town of Hope, WA, where local sheriff Will Teasle gives him a lift - straight out of town;The ex-Korean veteran Teasle explains in no uncertain terms that "drifters" like Rambo are not welcome in town. He sees in Rambo a violent element that he feels his community can do without. Insulted by Teasle's action, Rambo boldly returns to town and is falsely arrested for vagrancy and resisting arrest.



At the local police station his treatment at the hands of Teasle's deputies - especially the masochistic Galt - grows even harsher, as he is beaten and sprayed with a fire -
hose in a shower. There the police men are puzzled by the horrific scars that cover his body.When the deputies try to force-shave him dry, Rambo (briefly flashing back to horrifying memories of Communist torture in a prison camp) goes berserk and breaks free; He attacks the abusive officers, beats down seven policemen in less than a minute, steals a motorcycle and escapes into the wooded hills above the town.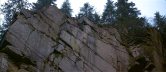 Sheriff Teasle tries to chase him, but has an accident with his car. So he orders tracker dogs and a helicopter to find him. Deputy Galt rides this heli which tracks Rambo to the edge of a ravine. But he violates orders and tries to kill Rambo - and in the process an accident leaves the deputy dead. Misunderstandings pile up and police men fire at Rambo who offered to give himself up to Teasle, but Rambo survives. It turns out that Rambo was a member of an elite special forces group and that he is in essence a killing machine. Teasle angered by the death of his good old friend Galt, is no more determined to catch Rambo.



In the woods - (his natural environment) - Rambo disposes of the tracker dogs in short order, and then proceeds to turn the tables on his pursuers, setting up all sorts of traps to disable and slow them down. With this jungle warfare techniques Rambo even catches Teasle and warns him, holding his hunting knife to his throat. He tells him to stop chasing him, before someone ends up getting killed. "Don't push it or I'll give you a war you won't believe."



Not too long after the media has made the manhunt their top story, and just when Teasle is wondering just who and what this Rambo really is, a man arrives at the scene to provide the exact answer. That man is Colonel Trautman, who was Rambo's supervising commander from the Vietnam war.Trautman advises the sheriff and his men that Rambo is a force not to be messed with, since he is skillfully trained in the arts of jungle survival and combat fighting. He tries to persuade Teasle to drop his persuit but of course, he ignores Trautman's advice. He wants Rambo dead..



By radio Colonel Trautman speaks to Rambo and wants him to give up. Rambo explains that he only wanted something to eat and that they, not him, drew first blood. Sitting in an old mine where the military soldiers have intombed him, he now decides to come back to town for revenge. So Rambo steals a military truck and makes his way to "Hope"..there he blows up a gas station and in a matter of one hour, Rambo goes from looking for a bite to eat to blowing up the entire city.



At the sheriff's office Rambo and Teasle are confronted another time and when Rambo is about to kill the sheriff finally, his mentor and former commander Trautman tries to stop him. He tells him that his mission is over now. Rambo,cries out about the pain he's suffered as a returning soldier who fought in a war and came home battered and bruised by all the injustices done to him and all the rallies and anti-war demonstrations. So he gives up now and is taken into police custody. The injured Teasle is taken away by ambulance...

Note: I used several internet sources for this summary..special credits go to http://www.sepiamutiny.com/sepia/archives/Rambo_Holy_Warscript.pdf