- - - - - This is the story of my trip to Hope in October 2022 - - - -
40th Anniversary of First Blood

Finally, after 10 years I returned to the birthplace of Rambo. On Saturday, October 8 my 5th trip to Hope B.C. began. I took the Riders Express bus from Vancouver and arrived at Old Hope Princeton Way at noon. So I walked to the Tourist Info Center which I almost missed as it looks much different now ;).




It's a temporary building and has a new name which is the "Hope, Cascades & Canyons Visitor Centre". Inge Wilson doesn`t work there anymore as she retired years ago.. The friendly staff welcomed me and gave me some info brochures for the next day (as well as the ticket for the Cinema show for this evening.





Even the Rambo photo board on the lawn next to the visitor center changed and received it's well deserved update. Freshly painted with strong colors it now shines proudly in the sun.
I still remember the old photo board from almost 20 years ago. To my surprise I discovered it at the Mountainview Brewery at Old Hope Princeton Way as a part of their Rambo exhibition. Great nostalgic moments! More on that later...



It was a warm day with a temperature of almost 30ºC. So it was not the weather just like in the movie..but it was perfect for all the outdoor activities that took place during the weekend. I checked into the Windsor Motel on 3rd Avenue (right across where the sheriffs office used to be placed in 1981). It was my second stay at this motel after 2004. Literally nothing has changed. I even had the smell of the old furniture still in my nose ;)



When I left the motel to check out the festivities I was heartly greeted by my old friend Brian McKinney who maybe was the busiest and mostly asked guy during the weekend. He did a great job with his staff to organize everything. So after a short chat he introduced me to Lee. During the filming of the movie in 1981 he was the owner of the old "Delicatessen" Restaurant at Wallace St. Lee told me lots of nice background stories of the filming and how crew members ate and drank at his restaurant. He's the guy w/ sunglasses on the pic above.

Right in front of the Hope Cinema there were various cars and weapons from the movie on display. Check out the photos.



| | | | |
| --- | --- | --- | --- |
| | | | |
| Lee holding an original M60 machine gun | Me doing the same :) | Me & a friendly sheriff in front of the original police car | Mood changes..getting arrested for buying Rambo underwear |

I also saw the new Rambo carving for the first time. In the summer of 2020 Ryan Villiers created this massive and awesome carving. It's "Sly-approved" as the local newspaper "Hope Standard" mentioned in an article. You can read it -> here.
Now, after Philadelphia with their bronze statue of Rocky Balboa it has also been the time for Hope BC to get their own statue of Rambo.




At a gift shop, the "Kerfuffle Creations" I met Dietmar Pohl of 'Pohl Force Tactical Knives". He's a German knife designer who created the movie knives for the last Rambo movie "Rambo V: Last Blood". He fulfilled his dream to travel to Hope this year and was one of the stars of the event. In 1983 when First Blood was shown at the German cinemas he fell in love with the movie and also got the enormous inspiration to pursue a career in crafting knives. It was a pleasure to talk with him and his team. Dietmar and I are soulmates with our passion for the special atmosphere of the movie which is carried by Jerry Goldsmith`s score, the rugged nature and the City of Hope which are characters on their own in the movie.



After the official event he presented his latest knife to the public. It's a special First Blood 40th anniversary survival knife with the name 'MK9 First Blood Legacy' - a combination of the combat knife he designed for Last Blood with the design of the survival knife in First Blood. Dietmar has a very close connection to Sly - I will tell ya more on that later! :)


I an alleyway between 3rd and 4th Avenue I discovered the new RAMBO LANE. During the walking tour (led by Brian McKinney) which took place on Friday, Hope Mayor Peter Robb and Dietmar Pohl unveiled a big street sign which marks a new street "Rambo Lane". This is the location where Rambo is firing his gun across the street at the Mountain State Savings Bank which doesn`t exist anymore. It`s now the "Treehouse Health Foods". So Hope does have it`s own "Rambo Street" now !!



At the Hope Arts Gallery at Fort St. there also was a Rambo themed exhibition. The works of local artisans were shown there. So you could see Rambo on canvas, on kitchen boards and coffee cups. I`m not an art connoisseur, but I specially adored a painting called "Lights of Hope" by Ed Hill. That`s an atmospheric motif of the City of Hope at night. If there had been some space left in my luggage I would have purchased it.



At 4 pm a Special Presentation at Wallace St. was about to surprise the visitors and fans. A big black stretch limousine arrived at the scenery where hundreds of people were waiting in front of a covered statue in front of the Hope District Hall. The doors of the limousine opened and with the crowd cheering the daughters and grandson of actor Brian Dennehy (Sheriff Will Teasle) walked on the red carpet towards the sculpture.



It was an emotional moment when Elizabeth, Kathleen and William attended the unveiling of this incredible wooden carving created by Ryan Villiers. Dennehy died in April 2020 and now has his own memorial in Hope BC. His legacy lives on in this wooden masterpiece just about 50 meters away from the wooden carving of John Rambo at Wallace St.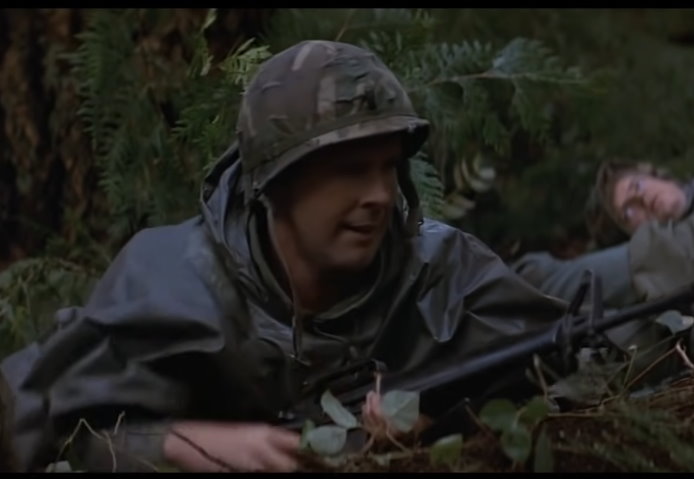 At a tent in front of the Hope Cinema I met Patrick Stack who portrayed Lt. Clinton Morgan in the movie. In his role he was the leader of some National Guardsmen in pursuit of Rambo. He brought some comedy moments to the film when he disregards Sheriff Teasle's orders and demanded a guardsman to fire a bazooka into an old mine to kill Rambo. When his soldier does so, Morgan happily declares to 'give that man a cigar'.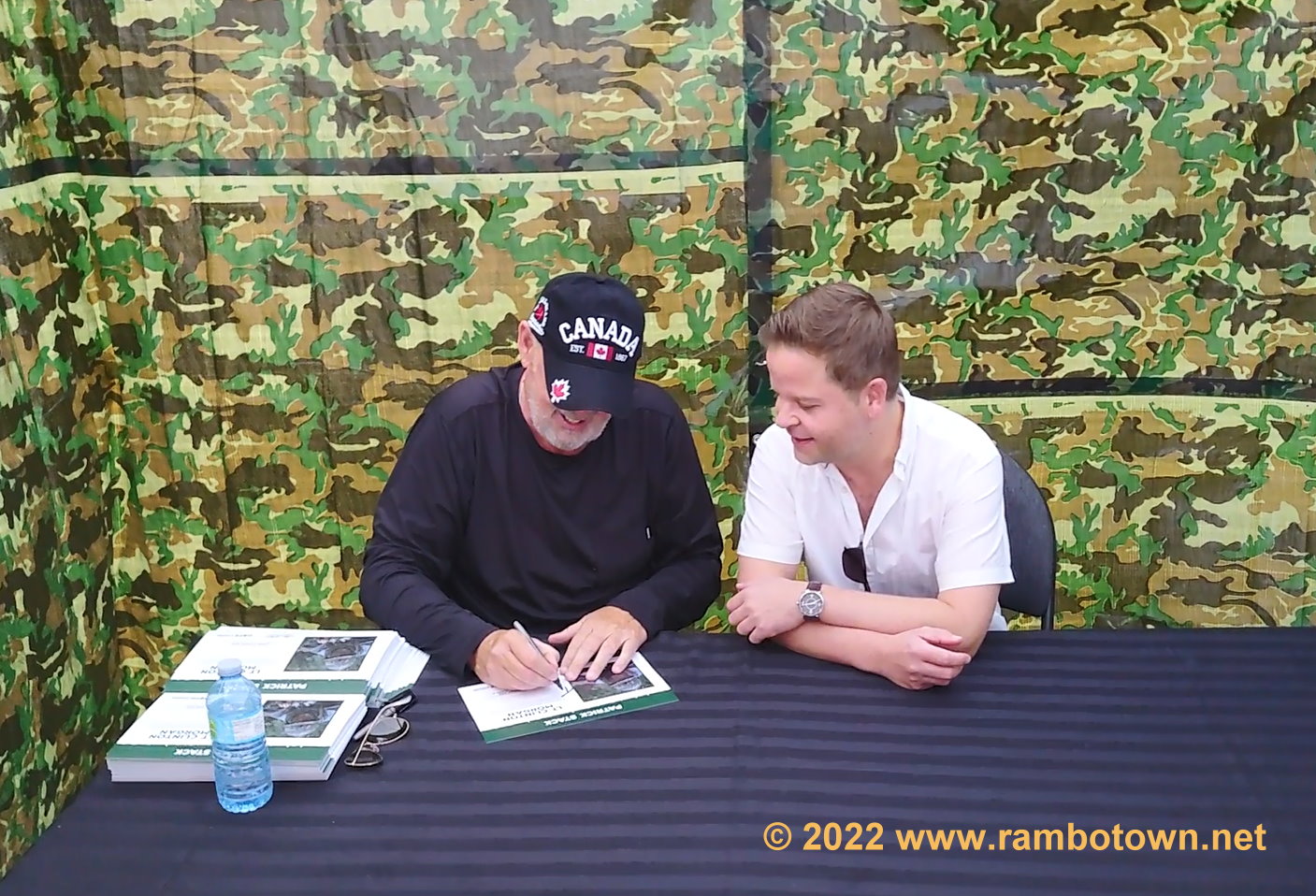 When I met Patrick he greeted me on German "Wie geht`s? 2 Bier bitte!" (in English "How are you dong? Give me 2 beers please!") We talked a little about my website, he signed a poster for me and we had some fun.
I an article he stated that he was surprised to be invited to the 40th anniversary celebration and said "Why me? Why couldn't they get someone else?" (making fun of his small role in the movie..). Patrick stayed in Hope over the whole thanksgiving weekend and joined us on multiple occasions.

This eventful day ended properly with the Screening of First Blood at the local Hope Cinema. All of us ticket buyers were entered into a draw for a helicopter trip above Chapmans gorge with Valley Helicopters. Unfortunately I didn`t win. ;)
A highlight was a special greeting from Sly Stallone himself to the audience. Thanks to Dietmar Pohl and his great connection to Sly a video was shown on the big screen with the man himself who thanked us for carrying the torch and celebrating his iconic movie character.
| | | | |
| --- | --- | --- | --- |
| | | | |
| Tickets for the show | On my way to the Cinema | Guess what..Popcorn!! | Meeting with Riley Foreman after 10 years |
| | | | |
| Waiting for the start of the show. Correct answer: "C" | Elizabeth Dennehy, Dietmar Pohl and Patrick Stack | A special greeting to the audience from Sly Stallone!! | The best movie ever! |

On the next day everyone was waiting for the highlight: A Tank Crushing cars on Wallace Street. In the meantime us Rambo fans could buy souvenirs at a special First Blood themed market place while browsing through a Military vehicle display. So we were strolling around, watching people selling Rambo kitchen boards, postcards or special First Blood bullets at the nearby Hope Memorial Park. The weather was perfect for this kind of outdoor activities, full of sunshine and not too hot.

At about 10 a.m. we lined up along Wallace St. to watch a 52 tonne Australian Centurion Tank drive over parked cars RAMBO STYLE! It was an unusual sight at the town Hope to watch a huge tank crushing cars like nothing! Tom DeSorcy led us through the event and he was in good company with VC Commander Stephen Chang who joined the City of Hope once again!


| | | | |
| --- | --- | --- | --- |
| | | | |
| Military weapons on display | First Blood themed market place | 52 tonne Australian Centurion Tank | VC Commander Stephen Chang - one of our special guests |

At noon we were filmed by a drone for the "STALLONE SHOUT OUT"..all of us Rambo fans shouted our loudest "NOTHING IS OVER" to a drone flying down Wallace St.


| | | | |
| --- | --- | --- | --- |
| | | | |
| Rambo souvenirs | ..and some more Rambo souvenirs | Me and Steven Chang..haven't met for 10 years ;) | Master carver Ryan Villiers at his work |
Then I went to the Mountain View Brewery to check out their their display of props used in the movie. I was pretty surprised to see some stuff that I did`t think it would still exist. There was a rare First Blood script, Sheriff Teasle's Stairs of his office, Deputy jackets, a chair that Stallone was sitting on during filming breaks and much more. It was a really cool Rambo museum and definately a highlight of the event! Beside that the Brewery offers very tasty Rambo beer and burgers!


| | | | |
| --- | --- | --- | --- |
| | | | |
| Mountain View Brewery at 390 Old Hope Princeton Way | Rambo Bridge reflectors, Door from Junkyard, M60 replica etc. | Framed gift ftom First Blood Productions | Rambo Bear from Amy Alexander, Rambo bullets, First Blood script |
| | | | |
| --- | --- | --- | --- |
| | | | |
| Stairs from the sheriffs office and Knives that were used in Rambo: Last Blood | Old photoboard and strong Rambo Doppelbock Beer | Heading north..old "GTHL"-sign at Coquihalla Campground | Special chart in memory of the old Rambo bridge crossing Coquihalla River |
After that I went on a hike to beautiful Kawkawa Lake. Enjoy the pics!


| | | | |
| --- | --- | --- | --- |
| | | | |
| The new Bridge | Kawkawa Lake - people fishing, motor boating and playing with dogs | On my way back new relaxing at Coquihalla River at sunset | Coquihalla River Community Park |
| | | | |
| --- | --- | --- | --- |
| | | | |
| An incredibly long train passing by at 6 Ave. Beautiful scenery | Spotting the movie cars getting ready for their return | Sunset view of the Fraser River | Goodbye Hope B.C. See ya next time :) |